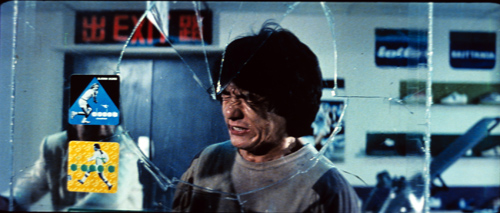 David Bordwell, the best shot-by-shot analyst of film in its history has
another superb piece on his blog
, this time about the trend I've complained about here frequently, specifically, the tendency toward disjointed and incoherent editing in action and fight sequences. Here's an excerpt:
During the 1990s several critics began to notice that filmmakers were doing something odd with action scenes.

Directors were consciously, even joyously, sacrificing clarity. When two characters were punching it out, the framing didn't make it easy to know who was hitting whom, and how. Changes in angle and shot scale were sometimes so abrupt that you had little time to adjust. The cutting pace was so quick that you couldn't entirely register the movement in shot A before shot B replaced it. Sometimes the spatial layout of the fight was confusing as well: too many close views, too few master shots. Later, the return of handheld shooting made many action scenes even more illegible., blurring and smearing them to the point that sound (as in the Bourne films) had to specify that a body has hit a window or a hand has busted a bottle. Now we have Sylvester Stallone's The Expendables, which might be a new summit in overbusy, incoherent, inconsequential action.

I wrote about this trend back in the 1990s, and I've returned to it on occasion since. Other writers, notably Todd McCarthy of Variety, noticed it too. He referred to the full-throttle editing and "frequently incoherent staging" on display in Armageddon (1998): "Bay's visual presentation is so frantic and chaotic that one often can't tell which ship or characters are being shown, or where things are in relation to one another."

...The Michael Bay approach has become the principal way in which action scenes are shot. It isn't absence of craft that leads to these aimless bouts. The filmmakers actively want the action to be hard, even impossible, to follow...They seem to think that making the action illegible is creative because it promotes realism.

...Realism, as usual, is simply a fig leaf for doing what you want. Virtually any technique can be justified as realistic according to some conception of what's important in the scene...

Forget the realist alibi. What do you want your sequence to do to the viewer? Do you want it to pass along an impression of bustle and flurry? Or do you want to make the viewer wince, recoil, even mildly reenact the movements of the players? Then follow the Hong Kong tradition. Yuen Woo-ping once told me that his goal was to make the viewer "feel the blow." To convey the effort and strain, the impact and pain: that's something worth doing.

It's something that the blur-o-vision tussles lack, but even fights that are more carefully filmed are strangely unmoving...
Bordwell then goes on to analyze, step by step, why the Hong Kong editing method works to convey the impact of a fight and the Michael Bay-Stallone method does not.
Read the whole thing here
.